National Lockdown Response January 2021
Following the government's announcement this week about the national lockdown, we have reviewed our practices and services in line with guidance from the Church of England. This guidance states that:
"While many churches have decided to offer digital services only for the time being, others are continuing to remain open, in a Covid-secure way, for individual prayer and common worship. The circumstances in each place will inform a local decision.
We urge everyone to be exceptionally cautious and, in particular, to do everything possible to prevent mingling outside of households and support bubbles.
We acknowledge and share the sadness many are feeling at not being able to meet together as we would usually do at the moment and prayerfully and confidently look forward to better times ahead."
With this in mind we will continue to offer our main services online at www.stmkr.org (10.30am each Sunday). For the time being we will not be able to resume our 9am communion services in person at church.
Welcome to St Mark's Kensal Rise
Although this season keeps us apart physically, the church is still active and wants to keep connected with you and support you. You can read more about our Covid-19 response here.
We are passionate about playing our part to live and share the love of Jesus in NW10 and beyond.
Join a Service!
Our main family service is at 10.30 every Sunday with worship, prayers and reading recorded by members of the congregation
Do join us from the comfort of your homes by clicking on the button below.
Missed a Service?
You catch up by clicking on the image below:
January 14, 2021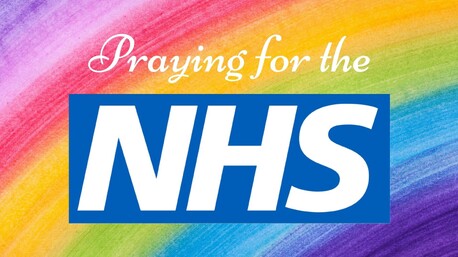 A former member of St Mark's has written the message below asking people to pray. She is responsible for all the ventilator and critical care engineering as well as supporting the nightingale hospitals. She's working round the clock and this is what she's asked us to pray for:Praying for the s...
read more
Sharing the love of God in our community
This February, lets bring an explosion of love into our community of Kensal Rise and beyond.
In a time where lockdown & Covid is bringing so much fear, lets spread GOD'S LOVE.
'for God has not given us a spirit of fear, but of power and of love and a sound mind.' ~2 Timothy 1:7
Decorate your windows and doors, gardens, gates, hedges and streets with hearts. Write a bible verse or encouraging words on your hearts and/ or send a kind note to a neighbour. Lets uplift our community together!
Parents and Toddlers
We are really sorry to say that Toddlers is unable to reopen. The guidance states that we'd need to keep children and adults socially distanced with non-sharing of toys, which would be impossible to do!! As soon as this changes we'll let you know. Thank you for your understanding, love Caroline and the Team
New all-age action song!
This week we introduced a new, cool all-age action song Slingshot by Nick and Becky Drake. Do check out this video and get worshipping at home!
New to St. Mark's?
Please fill out this form and a member of our Welcome Team will be in touch.
Contact Us:
Do get in touch if you are in need of information or assistance at this time:
Phone: 020 8960 3929
Email: admin@stmkr.org
Address:
St Mark's Kensal Rise
Bathurst Gardens
London, NW10 5HX

Phone:
020 8960 3929

Email:
admin@stmkr.org